"All things work together for good, for those who love the Lord and are called according to His purpose." Romans 8:28
"The earnest prayer of a righteous person has great power and produces wonderful results."  James 5:16b
I love these verses, there have been many times in my life when I have used and encouraged others with these. But tonight they confuse me –my heart wrestles with fatigue, worry, sadness and trying to hold onto faith.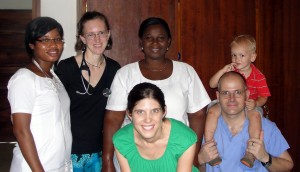 Amidst all the business that we've been surrounded by –sometimes just trying to keep our heads above water –I feel like I've lost some of the spiritual focus that, at one time in my life, I had. But life has a way of squeezing this out. Recently I was reminded of this by two short-termers that came out here.
One taking just a few extra minutes to tell the dying patients, "There's not anything medically we can do for you, but we can share with you the hope of eternal salvation and what will happen to you when you die." It's amazing for some reason how much effort it seems for me to be able to take the time to say that when he seemed to say it with such ease. Then a to-be long-term missionary that was helping us out here had told me that she was praying that God would heal the baby with the sole purpose of hoping to make a difference in the spiritual life of the mother. This really hit me –I had been asking for prayer for the baby, but just simply so the baby could live, not with the purpose of helping to spiritually bring the mother to Christ. What else have I been missing?!
What made things harder is that about a week after she said that we lost that baby. God, that was a hard one to take –why? It seems that with a spiritual focus that somehow that should change the outcome of what you [God] are going to do.
Now there is a baby that was born last week that is a nephew to one of our best nurses here. This was a "precious" baby. Due to circumstances this was a failed vacuum delivery that ended up in a c-section that ended up in a "bad baby."   There is another nurse and her husband, also a nurse, who has lost multiple pregnancies –this is the farthest out she has carried a baby, now we are having to make the call to take the baby early –thank goodness we were not alone in making the call. Now after the c-section the baby is stable and seems to be doing okay, but she is not. She's requiring lots of oxygen to maintain the minimum of O2 sats, she is having fever and chills and we're not exactly sure why –we think we know and we are treating to what we think is the best, but what if we lose her? What if we lose both of them? These are not just another Togolese, who after this the family will walk out of the hospital and I will not see them again most likely, this is a "family" that I will need to work with every day –what will they think of me, of us?
These are my fears, these are the thoughts that have been plaguing me over the past 24 hours. I'm tired, I'm fatigued, and I'm physically drained. How do I process this? How do I deal with this? How do I balance it all?
I rack my brain for answers from the past, for answers from scriptures that I've relied on in the past. I know God is omnipotent, that He loves me and those around me more than I every could. I know that He has a plan in all of this. But how do I face the families? How do I tell them, that I'm not perfect in what I do? How do I face myself, knowing that God is ultimately in control of all things, but that we are also responsible for our actions or lack of action? How do I bring back the spiritual focus to what I do and how do I live amidst all this trying to keep from "drowning?"
God, I trust you, I need you, I want to see you, and I'm asking/needing your help to get me through this fog, this valley of the shadow of death –I long for the mountaintop, for the peace, the rest, and the assurance that . . . You are truly in control.