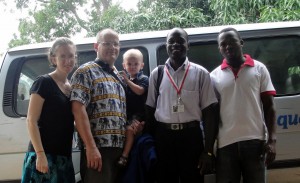 We were excited, but we weren't sure we were going to be able to go at all. Two of the three hospital vans were broken down and the second one, the one we were supposed to take, had just been towed the day before to Kpalimé.  We were still awaiting word on whether it would be ready or not. Thus, we were very happy when one of the other missionary families said that we could use their van for the trip instead! So despite the rainy morning, we loaded up the van with three of the five PET carts, said a prayer, took a picture and headed on our way. With us were Pastor Jeremie and Gnoyi both who had helped us in finding the people that we were hoping to meet and give the PET carts to today.
 Story #1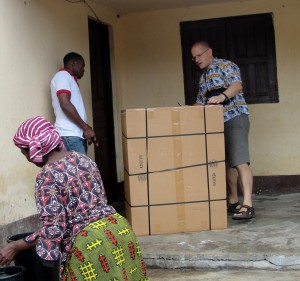 First stop wasn't too far out from Adéta and was in a small one room house that was a bit off the main road. Fred and the driver found a dry covered area to put the cart together while Pastor Jeremie, Gnoyi, and myself went to meet our first recipient. He was a young man in his 30's who is married and has a little girl, just a few months older than Noah. He had been training to be a truck driver –the kind used to transport heavy equipment and goods. He had been on one of his first few trips down to Lomé when he became tired and decided to pull over to the side of the road and take a nap. The exact details of what happened next are not exactly clear, but he laid down outside and somehow several of the heavy bags of coal that he had been transporting suddenly fell on top of him, crushing him. How much longer after that the he was found, I'm unsure, but he was then taken to a local hospital and found to have a severe spinal cord injury that left him paralyzed from the waist down. His wife had been about a month pregnant with their first child when this happened. Can you imagine going from a position where you are a strong young man taking care of your new wife and soon-to-be first child, to all of a sudden being completely dependent on others –not only physically but now also financially. He has had to depend on his extended family and his wife to be able to provide housing and food and clothes –as there is no social service or disability services here in Togo.
After the accident the local Baptist church reached out to this man and his wife to give them encouragement, support and aid. Before the accident, Yavoi had been a believing Muslim, but due to his interactions with the local Christians and missionaries, he and his wife had made a decision to follow Jesus Christ.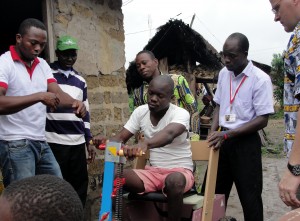 Yavoi is very excited about using the PET cart –it will give him some independence to get around.  Also, he is hoping he will now be able to find work –something he can do with his hands, maybe as a shoemaker.
In talking with him and his wife they would much appreciate your prayers that God would continue to meet their financial needs and that Yavoi would be able to find work that would allow him to be able to provide for his family.
 Story #2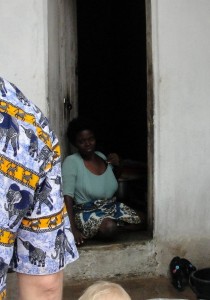 The second house we pulled up to was right off the main road and appeared to be a bit bigger and nicer. When we got out of the van and started walking towards the house I noticed a woman in her late 30's who was sitting on the floor of a doorway with her legs underneath of her. As we approached she reached for sandals that were sitting nearby and placed them on her hands as she went into a crawling position using her knees and hands to push herself along. She was coming out of the house on the wet ground to greet us –she was our next recipient!
Her mother relayed the story to us of what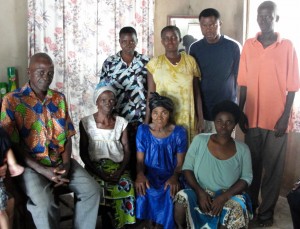 happened. She was a twin and around 2 years of age when she got suddenly very sick with cough and fever. Her family took her to a local dispensary (clinic) and she was given an injection of some kind.  She gradually started to recover.  During this time, her mother carried her around on her back –as if she were an infant –she never regained her ability to walk. Her twin sister was unscathed by the illness.
She since had gotten married and had five children; however, her husband had divorced her and she has been left raising and supporting four children while living with and getting help from her brother. She has been selling peanuts on the roadside to help supplement her family.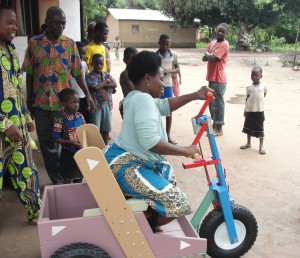 She had grown up in the Protestant church and early on her life had made a commitment of faith in Jesus Christ. The challenges that she has faced growing up and now being a single mother has not caused her faith in God to waiver.   Please pray for her in the growing of and witnessing of her faith, pray that God will give her grace and wisdom as she raises her children, and also as she uses the PET cart.  She is hoping that it will allow her to be more mobile and allow her to increase what and where she is able to sell things.
 Story #3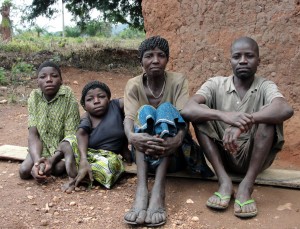 The third house was quite the drive. What we thought would only be a 20-30 minute drive more, turned out to be over an hour on a road that had many large potholes that were only made worse by all the rain that we'd just received. We were thankful that Noah fell asleep on the way and actually stayed asleep until we got back home! When we finally pulled off on to the side of the road, there were no nearby houses or village –we were out "in the country." The shelters that we were headed to were about 100 yards off the road along a dirt path through a field. Unlike the other houses that had been made of concrete, these were made of dirt with a thatched roof (definitely the poorest of what we'd seen so far). As we walked up we were introduced to the mother and father and then some other family members. The father appeared as if he had a mild structural problem with his leg but was able to get around with minimal problem. Then they introduced us to two of their children. The first was an older sibling, a girl, who had little development of her lower limbs and very deformed development of her arms. The boy sitting next to her, Myoba, was 14 years old, and had also been born with poor development of his lower extremities, but completely normal development of his arms.
Myoba had previously had some sort of bike that he had apparently been able to get around on –I'm unsure of how this worked, since he would not have been able to pedal with his legs.  But this had broken a while back and he'd had no way of getting around. Both he and his sister had had to quit going to school, as they had no means of transportation and extreme difficulty for mobility within the school itself (there are no handicap measures/aid available).
He and his sister had somehow been attending a local Baptist church that had been reaching out to them and ministering to them, but their parents and rest of their family are not going and seem to have more of animistic beliefs. While the PET cart was being put together, Pastor Jeremie had the chance to share with them the message and love of Jesus Christ. Though, no decisions were made on this day, we are hoping that when we follow-up with Myoba in a few months that we will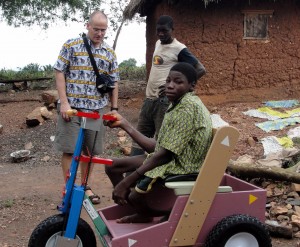 also be able to follow-up on his family and how God may be working in their hearts and lives. Please pray for Myoba that the PET cart would give both him and his sister some mobility (as she could ride in the cart), that he would be able to find things that he can do to help support his family, and also to be able to enjoy life a little more. Also, please pray for his family, that somehow through the PET cart and the words were spoken and the love that was given that the family will allow God to work in and speak into their hearts so that they too can come to know the love and gift of Christ that is offered to them.
We want to thank all of you for your prayers for us and the distribution of the PET carts.  Thank you also to all those who have given to help support our ministry here.  And a special thanks to Madison First Assembly for helping to make the PET carts and the gospel available to the people here in these stories.
For more pictures see our "Picture" page and for updated prayer requests, see our "Prayer Needs" page.