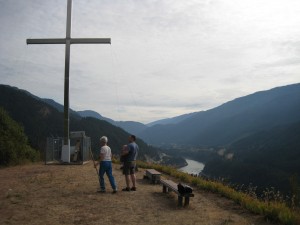 I am down.  I am struggling.  I called a friend, a teacher, a doctor who participated in my training.  We talked.
In the middle of January, I told my wife, we have been blessed / lucky so far, no major OB cases were we wonder "what if".  Yes there have been a lot of difficult OB cases and yes, there have been a number of medical cases were we have wondered "what if" . . . a 28 year old mother of five admitted for sepsis secondary to provoked abortion dead 16 hours later.  I was with her for the last 5 and wondered out-loud what if.
It is surprising what a month will do.  I have now two cases related to OB and post-partum where I wonder "what if".
"Oh Lord, you know our situation, you know what I will face today, give me strength, give me wisdom to prevail."
In my conversation with this friend I was reminded that I was a good doctor, a good person, here in Togo doing a service.  She told me to remember the success and the saves.  Interesting advice.
I do not remember the good times, the saves, or the success.  I, instead, remember the failures, the struggles, the defeats.  These struggles mark me with strong emotions, and it is these emotions that I remember.  It is these emotions that rule the day when I am down that make me question what I am doing.
"Oh Lord, help me to glorify you.  Have mercy on those I see in your name.  Do not punish them for my compliancy, pride, sin"
It is tough.  In a full day at OB clinic I will see many patients.  Of the 25 plus patients I see, I only remember the two difficulty "what if" ones.  That fact that they continue to come to our clinic for follow up is a testimony to them, their strength of character.  I am not sure I would.  I would run.  Yes, I am the doctor and I am here.  But on days like this I am only there because the airport is 3 hours away, and outside of purchasing a ticket home, I am not sure what I would do.  Beside, my wife is post call, at home with Noah . . . I have no other options.
"Thank you Lord for the Togolese people, there heart, their desire to know you and their example.  I am not worthy."
After the first case, the surgeons, medical chief and I visited the patient.  Our object was simple, to give no excuse, simply to explain what happened.  During this process, the patient explained that she was a seamstress who makes clothes and understands from time to time things happen.  And when they happen, you correct them and move on.  She then went one to say she hoped that what had happened would not affect her relationship with us the doctors and the hospital staff!  She continues to come to our hospital, to our OB clinic, I have seen her two times.  Her husband has invited us to their baby dedication.
"Thank you Lord for her, for her faith, for her example.  I pray that you will bless her life and that of her family.  What successes you have promised me, I pray you give to her."
The second case is tougher.  I have no description, no details.  All I can say is she comes to our clinic for follow up.  We pray.
"I am at your mercy Lord".
Today, my wife is on OB call, she started in the morning and has yet to come home.  I start my OB call tomorrow.  Our OB deck is different than most.  We manage not only the mothers but the babies, with their complications, that are born either at our hospital or at an outside clinic.  We are blessed to have a post resident pediatrician guiding us in our decision making and handling some of the more difficult cases.  Presently we have quadruplets, weight between 1.29 kilos and 1.6 kilos, born at an outside clinic; we have one baby on day number fourteen of IV antibiotics for 2 positive blood cultures, we are waiting the third; we have a baby who is seizing regularly with fever and on scheduled phenobarb, we are not sure of the source of the fever.  Outside of that we are in the process of inducing a pregnant lady who is at 42 weeks gestation and the baby is no longer living –four days ago the baby was fine.  And we are watching a mom, 20 weeks gestational age with a 2 cm dilated cervix, in whom we have placed our first cerclage (a stich to try and keep the cervix closed) –we hope to stop an earlier delivery.
"Lord God, thank you very much for Dr. K and her patience and care for not only the patients but us (me and my wife) for taking the time to train us and to give us a new set of skills.  We pray for her and thank her for her time here at HBB and for her safe travels as she heads back to the states for a few months prior to heading to the Northern part of Togo to help start and run the Hospital of Hope."
God Bless