If I ever thought God talks to me, I would say he does it through the peace he gives me during a crisis and/ or busy time. Our trip back to and our first month back in the USA is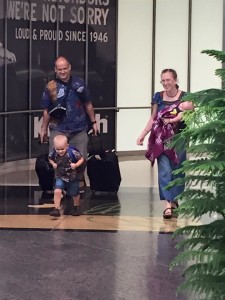 no exception. Yes, we have questions about our future –will God open the door for another 30 months in France / Africa? – and, yes, we are busy –9 presentations, 7 interviews –but despite this, we are at peace. And in and with this peace we are given the confidence that He is watching over us, and that everything will work out for his glory.
Our trip back to the US from Togo was long but uneventful –thanking God! We showed up in Indianapolis with 7 of our 8 bags, and into the arms of Lydia's parents, Dave and Ann Childress and a long-time friend, Kharon. It was nice. Thank you very much!
From there we travelled home to Madison, Indiana and got settled in to our temporary

home for the next 6 months. This was followed with trips to Edgewood, Kentucky; Quincy, Illinois; Bowen, Illinois; and Indianapolis, Indiana where we not only got to meet friends and supporter to share our story and thank them for their support, but tell them about our future plans and ask them if they would be willing to continue supporting us. The response so far has been very encouraging more so for the "familiar" feeling that has been felt in each of these gathering. We are left with no doubt that not only are our blogs and newsletters read on a regular basis, but that we have been prayed for and are loved like family. Thank you very much!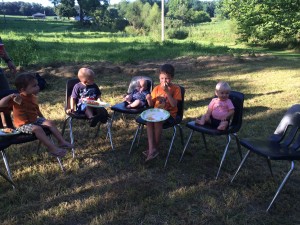 In between our travel schedule we had a Childress family re-union at the home of Dave and Ann. During this time we got to visit with not only Lydia's parents again, but Lydia's brother and sister and their families. Since our departure 2 years ago, the grandkids have grown from 3 to 5 with the newest members being Ezra Childress born in November 2014 and Nathanael Pfenniger,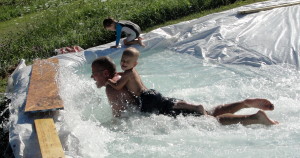 born in March 2015. The time was fantastic. We played on a slip and slid, ate barbecue food, shared our presentation, and had a night of fireworks that was fit for a king. I think I can say without a doubt that the grandkids most favorite person is "Granddad". Thank you very much!
As we head into the month of August our schedule will continue to be busy and it will be so until the beginning of December. Between now and then we will be making 8 more presentation, visiting Samaritan's Purse headquarters for a debriefing of our time in Togo, possibly attending ABWE orientation program for short term missionaries, making two trips to the West Coast –the first one on August 13 to visit family and pick up our van, and the second in November to attend a week long missions conference. Intermixed in all this will be a number of interviews. We continue to be blessed not only with the support– financial and spiritually –that we have received, but with the understanding people have shown as we take the next six months to investigate, pray, and listen to God and what step He will have us take next. Thank you very much.
Please see our updated prayer request page, picture page and our present level of financial support.
God Bless
Fred, Lydia, Noah and Nathanael
P.S. Our Updated Schedule:
| | |
| --- | --- |
| August 6 to 10 | Rogers Arkansas |
| August 13 | Fly out to Vancouver BC |
| August 16 | Temple Baptist Tacoma |
| August 20 | Tacoma Family Medicine Residency Tacoma |
| August 24 to Oct 2nd | Multiple states and family medicine clinics |
| Oct 11 / 12 | Milton United Methodist |
| Oct 13 – 15 | Samaritans Purse Headquarters |
| Oct 17 to 19 | Kirksville Missouri |
| Oct 23 to 26 | Fisher Illinois |
| Oct 28 to 30 ?? | ABWE orientation |
| Nov 7th | IWU Marion Indiana |
| Nov 8 to 15th | Temple Baptist Tacoma Washington |
| Nov 16 – 23 ?? | Grandview Michigan |
| 1st week Dec | MAG Madison Indiana |