So much has been happening that we are not sure how to tell it outside of doing it as a series of short stories.
Here we come France!
August 23 is just around the corner.  We are excited!  Our lives have once again been reduced down to 6 suitcases, 3 pack-sacs, and 2 kids.  Yes, there is still a wife/mother and husband/father too, and all of us, with all of our belongings, can all fit into a minivan, go figure.  We are heading to France for 8 months of language study at which time we will be making a short trip home to the US and then on to Togo sometime in May 2017.
In August we suffered a miscarriage.  This has broken our hearts as we wish to continue to grow our family.  We are grateful and thankful for the support we have received.
"Life is not a straight line leading from one blessing to the next and then finally to heaven. Life is a winding and troubled road. Switchback after switchback. And the point of biblical stories like Joseph and Job and Esther and Ruth is to help us feel in our bones (not just know in our heads) that God is for us in all these strange turns. God is not just showing up after the trouble and cleaning it up. He is plotting the course and managing the troubles with far-reaching purposes for our good and for the glory of Jesus Christ." – John Piper, in A Sweet and Bitter Providence
We have been approved by Project Medsend!
Project MedSend is an organization whose goal is to "enable highly qualified and dedicated healthcare professionals to serve people in need around the world in the name of Christ".  They do this by "awarding educational loan repayment grants to career healthcare missionaries".  We have been truly blessed to have received a monthly educational grant that will pay for medical student loans over then next 30 months allowing us to focus our limited resources on succeeding in the field versus paying off loans.
The Medsend grant has been very timely.  While under Samaritans Purse, we were able to use project funds to make loan payments.  With ABWE we are not.  This grant gives us breathing room in an already tight financial situation and is very timely as we are making the final transition from SP to ABWE.  Thank you God, and please bless MedSend for all that they do!
Indiana Wesleyan University, of which Lydia is an alumna of, has nominated her for a "Distinguished College of Arts and Science Alumni Award".  We, and very specifically, Lydia, is humbled in this recognition as we realize that this is not of our doing, but of Jesus Christ.  It is his example that has changed our lives and that we are following that is to be credited.
The Award is granted to an alumnus or alumna of the College who has exhibited excellence in serving his or her profession, community, church or alma mater in the spirit of Jesus Christ.
As we are unable to attend the ceremony, a slide show of pictures and a bio of Lydia will be presented during the home coming ceremonies in October 2016. "Go wildcats!"
HBB Project –> Training OB / Medical Nurses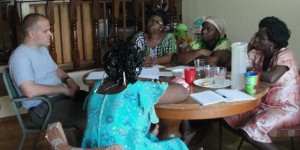 Great progress has been made with this project with respect to training OB nurses.
We have, through Sister Kay, met via skype the founding member of "Midwives for Haiti", an organization in Haiti, focused on training Skilled Birthing Attendants to offset the shortage of OB providers.  The impact of "Midwives for Haiti" cannot be understated as presently their grads make up 1/3 of the OB providers in Haiti.
They have offered there French / English curriculum to us and as such offset a lot of work making it possible to have a proposal to HBB sooner than later.  We are excited and will write more on this in the coming months.
Life sometime is all about opportunity and timing.
Recently Dr. Gayle and Dr. Ebersol of HBB not only recognized a need but reached out to us enquiring about the PET Carts.  Interesting enough, this need corresponded to the timing of a financial gift specifically ear marked for the PET Carts.  As such and through them 5 PET Carts were shipped out to Togo.
We are excited and cannot wait to see who all will receive the PET Carts and to do follow up visits with the recipients when we arrive in Togo.  We will write more on this in the coming months.
Recently HBB has been focused on developing a vision and plan for its ministry over the next 10 plus years.  This plan which includes an expansion of the hospital from 50 to 75 beds has been approved.  We are excited at the potential of ABWE's Hospital ministry in Togo over the coming years.
God Bless
Fred, Lydia, Noah and Nathanael
P.S. Do not forget to look at our picture page, prayer page and financial page