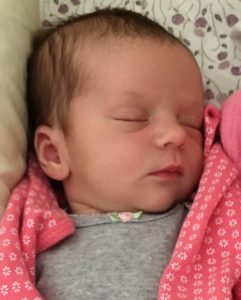 Making her own schedule, she has finally arrived . . . 6 days past her due date. We are very happy to introduce to you Noémi Ann Pfenniger, otherwise known as NAP. She joins her brothers Noah, known as NRP and Nathanael, known as NYP. Her brothers were very excited to meet her. The first few days were rough as we adjusted to her new sleeping and feeding patterns.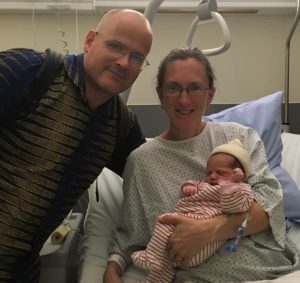 Noémi, weighing 7.8 pounds and measuring 21 inches, was born at 7:42 pm on July 9th, 2017 in Albertville France after 1 hour and 15 minutes of labor. Mom and baby stayed in the hospital for 1 and a half days and are presently at home. She is a sweet little girl with what we believe to be a calm temperament. Yes, she takes after her mother and for that we are grateful. However when she gets hungry, she has a strong cry, a trait she takes from her father!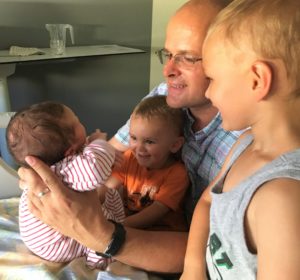 Thank you for your prayers and support. Also thank you to the families who have supported us with meals, daycare and kind words during this last week. A special thanks to Nate and Darlene for taking care of NRP and NYP while we were in the hospital.
We have now 5 weeks to get her a passport and pack for our flights to the US on August 17th.
God Bless
Fred, Lydia, Noah, Nathanael and Noémi.
Please also see our updated prayer requests, pictures and financial pages
Please note our schedule while in the USA:
August 17th –> return to the USA
August 18th, 19th, 20th and 21st –> Childress family reunion (Madison, IN)
August 23rd, 24th –> Immunizations and appointments (Indianapolis, IN)
August 29th to Sept 5th –> Visit sending church and family on the west coast (British Columbia and Washington)
Sept 6th to Oct 2nd –> packing and preparing for our time in Togo (Madison, IN)
Sept ?? –>  IWU presentation ?? (Marion, IN)
Oct 3rd –> leave for Togo