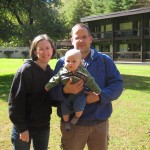 Dear Family and Friends,
Merry Christmas and Happy New Year!
So the news is in. We're going to Switzerland for language study! Can you say cheese and chocolate? Housing has been found, and daycare has been arranged for just under $12 a day. (It was initially thought to be $80 a day.)  We are presently working on packing and other details for our trip (banking, phones, immunizations, etc).  Our departure date is set for Jan. 8, 2013, with  French language training starting on Jan. 14.  After six months in Switzerland, we are hoping to return to the USA for one or two weeks to repack for Togo.  Then we will excitedly move to Togo for two years.  Yes, we are thrilled and concerned at the same time, praying that God will keep us healthy and safe over the next two and a half years.
Our time in Madison, Indiana, has truly been a blessing. (We give a special thanks to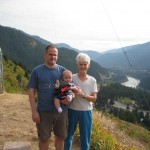 Grandma and Grandpa Childress for the daycare and the free meals.)  It began with an eight-day trip from Tacoma, WA to Madison, IN, with stops in Langley, Boston Bar, Sparwood, and Chicago, to visit family and friends. (It was nice to see you again Grandma Pfenniger, Auntie Monica, the Days, and Mike).  Also, before leaving Washington, we found a Canadian home for Ginger, our dog. (Thanks, Canada!) Once in Madison, we settled into a house provided by extended family. (Thank you, Aunt Joyce/Uncle Joe.) We have stored our belongings (all 80 banana boxes) in the basement of Lydia's parents' home.  We then spent time studying for our board exam that we took on Nov 10th. (Thanks so much for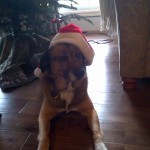 your prayers; the results are due just before Christmas.)  From there, we have spent time making presentations about our ministry (12 presentations so far, 3 more to go).  The response to our presentations has been humbling in terms of the support – both spiritual and financial – plus lots of encouragement.  Thank you, God.
Noah continues to grow. (As of September 30, he was 90% in height and 60% in weight.)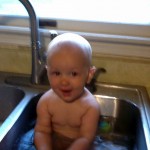 Among the foods he consumes are pureed peas and broccoli. (Can you believe it? Fred's afraid that he is going to become a vegetarian!)  He continues to be a good traveler.  His dad's only complaint is that he gets up at 5:30 AM each day like clockwork, wherever he is.
Fred and Lydia have been enjoying their time together with lesser work commitments (except for Lydia's to-do lists).  Granted, between caring for Noah, studying, traveling, presentations, and preparing for our time in Switzerland and Togo, we have been keeping busy. Both of us celebrated birthdays in the past month. Lydia became a year older in November, while Fred turned 41 on Dec. 10th.
Your prayer support is so much needed and appreciated!  Below is listed the concerns and decisions for which we would like you to join us in prayer:
Travel      –on the long trip to Switzerland that Noah will not be overly tired or      restless on the plane
Time      in Switzerland –adapting to life and culture; being able to efficiently learn      French; connecting with the church and local community
Family      / Noah – that we will be able to manage work, family, and life, while      keeping God first in our lives
We are very thankful for the time we've had with family and friends this year. We pray that as you and your family celebrate Christ's birth, the time with your family will be blessed!
Plans
Leaving for Switzerlandon Jan 8th
Will be staying in Les Ponts-de-Martels
Financial Support (Goal $1,200.00 a month)
79% of support received
Donations: account #003916 www.samaritanspurse.org/wmmgiving;
or send to: Samaritan's Purse, attention: post-residency program,  P.O Box 3000, Boone, NC 28607
Please note: USdonor will get a tax receipt; Canadian donors are not eligible for a tax receipt (sorry)
God Bless,
Fred,Lydiaand Noah
PS. You can now subscribe on our website to receive updates via email.