Noah Fridolin Pfenniger is here!  He was born March 26, 2012 after 9½ hours of labor and weighing 6 pounds 13.6 ounces.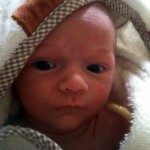 Fred said he didn't understand what all the fuss about labor was and would do it again; Lydia, on the other-hand, has a new appreciation for the whole labor process. We are truly thankful to God that Noah is a healthy child and that his mom went through labor with no complications.  Today, Noah is nearly three weeks old and eating, sleeping, stooling like a champ.  We are blessed that so far he is a quiet baby, crying only when he gets changed – we wonder if he will stay this way.  After the birth Grandma and Grandpa Childress came out from Madison, Indiana to stay with us for 10 days –it was a blessing.  They cooked, cleaned, ran errands, and delighted in holding Noah – helping as we adjusted to Noah's arrival.  We are looking forward to Grandma Pfenniger and other family visiting in the near future.
Fred continues to get good experience in his rural fellowship year in trauma, pediatrics, obstetrics, and procedure (although he says he still has not learned how to change diapers!).  The hours are long, but he and we are surviving.  He will be graduating from the fellowship at the end of July, after which he will have a much needed break and time with Noah, as a stay-at-home dad for two months. Lydia is already making her list of do's and don't for the boys when mom is not around.
God's timing is amazing as Lydia's last day of work was the Wednesday prior to Noah's birth –giving her just enough time to finish up all of her paperwork and one day to rest, before she went into labor on Sunday night!  Presently, we are being blessed by our church family with meals on an intermittent basis; Fred's wondering how we can keep this going?!  Our next challenge will be finding daycare for Noah during the last week of June and for the month of July.
We are getting excited about our language learning time in Switzerland –especially for the chocolate, cheese, and mountains, but needing prayers for alternatives to the $80/day daycare.  Our passport work is done, and we are starting to work on the logistics of the move. The present plan is to move from Tacoma to Indiana at the end of September and to spend the last three months of the year with Grandma and Grandpa Childress, while raising financial support and taking our board exams; then we will be off to Switzerland in January.
In raising the financial support, we will be speaking to churches, groups, and individuals about our future ministry in Togo.  If you know of anyone who would be interested, please let us know so we can share with them of our plans for ministry in Togo.  Taking in to account Samaritan Purse financial support, our financial goal is 40 supporters at $25 a month for 30 months (January 2013 to July 2015).  If you feel led to help in financially supporting us, Samaritans Purse has set up an account for us (tax deductible) that you can give to (account #003916).  You can donate either by mail (see attached document) or on line: go to www.samaritanspurse.org  click on "Ways to Donate," then "Support a Physician," and then type in our name.
As always, your prayer support is needed and appreciated!  Below is listed the concerns and decisions for which we would like you to join us in prayer, as well as praise for the safe and joyous arrival of Noah!
Current Prayer Requests:
Daycare – that we will find suitable daycare for the last week of June and the month of July, as well as for our language school time in Switzerland
Noah –that he will continue to be healthy and that he will grow up God fearing
Work – that the transition from full-time mother to full-time doctor will go smoothly for Lydiaand Fred will continue to get the experience he needs as he finishes his fellowship
Other Interesting Facts:
First documented successful human c-section done by a pig farmer on his pregnant wife in Switzerland in 1580; today they call them doctors!
Population: 6,028,000; 10% child mortality under the age 0f 5 (vs. 0.8% in the US); There is 1 doctor/ 20,000 peopl; HIV accounts for 15% of all deaths; Religion: 29% Christian, 20% Muslim, 51% Indigenous belief
Financial Support; 8% of goal
Thank you so much for your encouragement and support through the years.
Fred, Lydia, and Noah Pfenniger