Dear Friends and Family,
Happy Easter!  What a beautiful time of the year for many reasons, the best of it being the resurrection of Christ! There is hope!
HBB continues to be an exciting place to work!  We were very busy during the months of January and February, but were able to take a one-week holiday to Ghana during the month of March, thanks to all the short termers who came here.
The reflection – a missed opportunity
In Ghana, we spent time hiking to the tallest water fall in West Africa and visiting Accra and Elimina.  While in Elimina, we visited the largest of the still-existing slave castles.  It was here, with an already existing slave trade among the African tribes, that the Europeans joined the trade, acquiring slaves for arms, textiles, and supplies.  The Europeans, with their ships and economies, provided something new: economies of scale, which ramped up the slave trade.
But what left an impression was the rectangular court yard that was surrounded by three-story high walls.  The first level housed the slaves– in cramped quarters, with little food and water while awaiting transport to the New World; the second level housed the castle employees and soldiers, and the third level housed the governor. I cannot imagine the constant voices, noises, and screams the employees and soldiers heard twenty-four hours a day.  Confounding this image, would be the church that was located in the middle of the courtyard.  This would mean, as the Christians went to church every Sunday, they would not only have passed by but have smelled, heard, and seen the slaves suffering.  It is an interesting picture and makes one wonder what "faith" was then.  Also, what would the world look like today if "we" had gotten it right then? A question for today: are there things that we pass by every day and to which we're accustomed, regarding which God calls us to stand for what is right –as He did William Wilberforce in his day?
Togo / HBB
Early this year, January and February, we had a tough time, both with a short supply of staff but also with some difficult and heart-breaking cases.  A mother came in with pre-term labor; interventions were performed, but not only did we lose the baby but the mom as well.  An unsuspecting mother delivered quadruplets at an outside clinic–a wonderful complete surprise—but only to lose three of them here to infection over the following two weeks.  These times were rugged; at times all we could do was cry and cling to the Lord's promises to be our strength and our hope when much seemed hopeless.  Then suddenly the tide changed direction and in March we were blessed with an abundance of medical staff.  This allowed us not only to step away from obstetrics for a while, but also gave Fred the opportunity to do a month of surgery (which he loved), Lydia to be home a bit more, and us to have a week in Ghana.
Recently, as we've had the opportunity to get more adjusted to being here and to have a better understanding of the physical and spiritual needs, we've been seeking for other ways in which we can be involved in ministry here.  This has been a slow process, but God has started to open some doors about which we're excited.  This has involved aiding some of our patients financially as they have very large hospital bills and difficulty just being able to provide daily meals for themselves.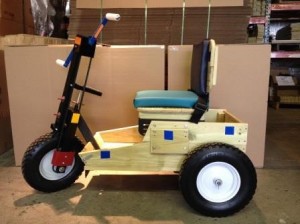 Also, we are currently in the process of seeing if we can get some personal energized transportation devices out here for patients who are immobilized secondary to paralysis or other chronic illnesses.  We are excited to see how God is going to work through these opportunities. Please be praying for God's direction and handiwork in all of this.
Family Update
Noah is TWO!  We continue to thank God for the blessing that Noah is to us.  We had a
wonderful birthday celebration for him with the local missionary families and also some of our househelp who faithfully care for him while we're working.  There were games, presents, and carrot cake (the same recipe we used in Switzerland)!  Noah loves the outdoors; during the week he can't wait to go out every morning with our gardener, Kokou; they have a lot of fun cutting grass, raking leaves, taking trips into town on errands, and riding Kokou's moto!  He continues to climb, has started building block towers, and loves playing with daddy in the "fort" daddy built in our living room, made with our furniture.
Fred and Lydia are continuing to work at finding the balance in work, home, and life.  Fred has started playing some basketball with another doctor, and Lydia has enjoyed going for a run with another short-term doctor here –with hopefully more to come!  There is also a "spiritual care" team for us from Samaritan's Purse coming here April 24th to May 1st. We're also hoping for a small vacation later this summer.
Thank you!
We are very thankful to those who came not only giving their services to the hospital, but also taking the time to try to meet some of our own personal needs as well.
Thank you also to those of you who sent packages to us here; the packages were filled with much love and fun surprises for us –that were and continue to be quite a blessing!!
Thank you again for your continued prayer and financial support that allows us to be able to reach out and minister to families here in ways that we would not be able to otherwise.  (If there are any specific ways that you would like to be involved in ministry here, please let us know, i.e. knitted hats for babies, clothes for mothers, financial assistance, Bibles for the hospital, short-term trip, etc.)
Prayer Requests
We are thanking God that we have found some very trustworthy and wonderful people to watch Noah in the morning while both of us work at the hospital.
Over the next few months there will continue to be a flux in the medical staff coverage here; so we would really appreciate your prayers for us as we go through these ebbs and flows—especially during the shortages.
Pray for God's hand as we look at ministering in other ways outside of the hospital.
Pray for God's direction as we look to the future and what that holds for us
o    There is an important vision meeting for the hospital here in August
Praying that you experience the blessing of life in and through Christ this Easter!
God bless,
Fred, Lydia and Noah Pfenniger