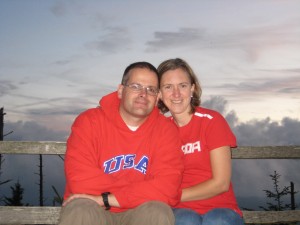 Dear Family and Friends,
Can you believe another year has come and gone?  This one for us has involved the loss of Fred's dad, a move cross country to the beautiful state of Washington, starting new jobs, and the exciting news of a baby on the way!
We've now been married for over a year and no divorce papers yet!  Fred says it feels like it's been an eternity –he means this in a good way.J  Also, we feel so blessed to announce that our son is due to be born on March 24, 2012!  We have been slowly re-arranging our apartment in anticipation of the little bundle of joy.  Outside of some nausea at the beginning of the pregnancy, things have been going well.
In June, Fred finished his Family Medicine Residency program! He was surprised and happy to receive the "Resident Teaching Award."  After our completing a Tropical medicine course in West Virginia, Fred started a rural fellowship program in Tacoma, Washington.  Despite the long hours, he enjoyed his time working in the Pediatric ER managing sick kids and learning how to cast.  He is also continuing to learn a lot on the Labor and Delivery floor while managing pregnant patients and doing c-sections.  We are thanking God for the training he is receiving.
Lydia started a new job working at a community health clinic.  She is working both in the clinic and hospital.  There has definitely been challenges with working for a big organization and a different population of people, but she has felt blessed by prayers and the new church we are calling "home."  She is also helping out with the Domestics Violence Women's Clinic one day a week; working with women whose lives have been decimated in so many ways is a challenge but also filled with opportunities to be God's love.
One of the conversations that first brought us together was our desire to serve in a third-world country.  At the end of July, we interviewed with Samaritans Purse (a missions organization headed by Franklin Graham) for a two-year position serving in a mission's hospital.  We recently heard that we have been accepted!  We are excited at the news and thankful to God for the opportunity as this has been a dream that "has been years in the making!"
God is presently leading us to a hospital in Togo called L'Hopital Baptiste Biblique.  This is a forty-bed facility that services a population of about 500,000.  Can you imagine that?! (That's about the size of Louisville, KY or Sacramento, CA being serviced by one hospital!) Both of us have had the opportunity to work for a few weeks at this hospital previously.  We really felt blessed by the spiritual and physical ministry of the hospital as well as enjoyed the staff, doctors and their families working there.
Before we go to Togo, we will be spending six especially challenging months living in Switzerland learning French –as this is the official language of Togo.  You can be praying for us as we suffer through gorgeous scenery, wonderful chocolate, and enjoyable times with Fred's extended family
Over these next few months and in the months to come, we will very much need and appreciate your prayers to help us in all the decisions to be made.  We hope to be mailing information every few months to let you know how you can be praying for us and to up date our plans.
Current Prayer Requests:
Life –that we will be able to manage work, family, and life, while keeping God first in our lives
Pregnancy –that all will continue to go well and the baby will arrive safe and healthy
Togo Mission trip –that God will give us wisdom as we plan; that He will provide logistically and financially for everything to come together for departure in January 2013
Also, if you feel led to help in financially supporting us, Samaritans Purse has set up an account for us (tax deductible) that you can give to.You can donate either on line: account #003916, https://www.samaritanspurse.org/index.php/giving/wmm_doctors/ or by mail.
Thank you so much for your encouragement and support through the years.
Merry Christmas and Happy New Year,
Fred & Lydia Pfenniger