We are excited to be going back to Togo
On October 3rd, we are heading back to Togo.  We are blessed to be going back to Togo again, to work in the hospital doing adult and pediatric medicine and OB, to be among our colleagues at HBB winning an audience for God.
The season is changing
This time around it will be different for us.  We now have three children, not one, and we will be homeschooling Noah.  We, including immediate and extended family, are older.  Before we chased work and ministry; now family is the priority in this season of our lives.
We have concerns about going back to Togo
The last time we were in Togo, there were, for the most part, only 4 to 5 doctors; consequently, we worked a lot.  As we head back in October, the manpower situation at the hospital appears to be about the same.  We are unsure of what this means for us. How does the hospital address the needs of so many and yet maintain its viability and its witness for Christ? How do we as a family help meet the needs of the hospital/patients, but also thrive as a family and in our own personal relationships, and grow in Christ?  Compounding this, is the uncertainty surrounding the political situation in Togo.  There have been recent protests in opposition to the government of Togo.
Our path to this point has been encouraging
The last time with left Togo we knew only one thing: we wanted to go back but we did not know how it would unfold.  Yet God opened the door . . . we raised funds successfully; we completed some required courses; and we got our affairs in order.  From there we completed additional French studies and are now heading back to Togo.
Our Prayers
As we are going over for our second term, we ask that you
pray that we will

continue to reflect on God's Word and his direction for our lives

pray that we will

thrive as a family

pray that we will

bless the Hospital –patients and staff

and
pray that we will

be able to pursue the goals/desires that God has placed in our hearts

.
As we are getting ready to go over, we are faced with fears and anxieties and at the same time we are working on finding a peace and placing our complete trust in Christ.
And the Lord, He is the One who goes before you. He will be with you, He will not forsake you; do not fear nor be dismayed.
Deuteronomy 31:8.
The Kids
Noémi Ann Pfenniger arrived on July 9th, 2017 at 7:40 pm, 6 days late and about 10 minutes after our arrival at the hospital.  Baby Noémi is presently 12 weeks old and has already gained 2.6 kg (5.7lb)!  She is a good traveler who loves to nurse constantly.  Her brothers have taken to her well.  Noah likes to talk to her, while Nathanael likes to play the ukulele for her.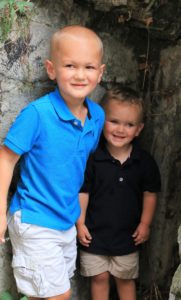 We have started homeschooling Noah.  We are working on math, reading, and writing. His favorite subject by far is math.  While in Togo, his education will be split between the MK school for 2 hours a day where he will focus on reading and writing, and home, where he will focus on math, science, and sports.  He continues to be interested in sports; he loves to play T-ball and soccer, as well as to wrestle.  We are hoping to work on his swimming while we are in Togo.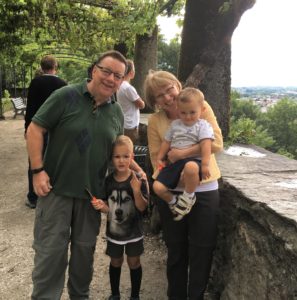 Nathanael continues to love all things "physical" whether it is hitting a ball, jumping from something, or trying to ride a bike that is too big for him.  He and Noah are starting to play well together.  Nothing lightens up the house as much as when he and Noah are laughing.  We had his speech evaluated and presently believe that he is developing normally with only a delay in speech.  We will be working with him and watching him over the next 6 to 12 months.
Fred and Lydia
Our last few months in France were busy and fun.  In addition to  having a baby, we were blessed with the use of a car for two months . . . thanks to Jeff and Amy.  And we were blessed by family photos . . . thanks to Stephen and Lisa.  We finished language school,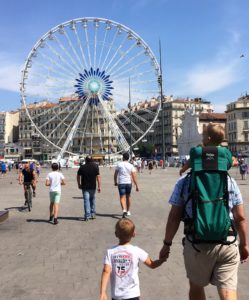 travelled to Lyon, Marseille, and Annecy, and had follow-up doctor visits for Noémi, Noah, and Lydia.  We were visited in Albertville by Pastors Peter and Ruth, friends Drew and Jamie, and cousin Beat.  We spent time swimming, hiking, and reflecting on our time in France.  The year overall was tough, but good to us as a family, and we're very grateful for it!
On August 17, we left Albertville France for Madison, Indiana, where we were welcomed home by Lydia's parents, and were once again blessed by a place to stay . . . thanks to Uncle Joe and Aunt Joyce.  Our time here in the US has been surprisingly busy.  Prior to coming to back we purposely tried to keep our schedule light, but have found that it has filled with tasks and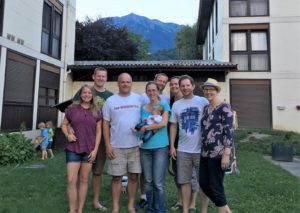 obligations.  We have traveled to Tacoma Washington to visit our sending church (thanks to the Bair family for hosting us), and Vancouver, BC, and Holland, Michigan to visit family (thanks to the Pfenniger and Childress families for welcoming us and feeding us).  We have made 4 Togo presentations (TBC, WIRT, IWU and MAG) and had multiple doctor visits (well child check-ups, dental work, and immunizations with the travel doctor).  We cleaned up our stuff in storage that was flooded in July, applied for Ghanaian VISAs, updated our wills and power of attorneys, and repacked for our time in Togo.  There has been very little down time.  All this is in preparation for our flight to Togo on October 3rd!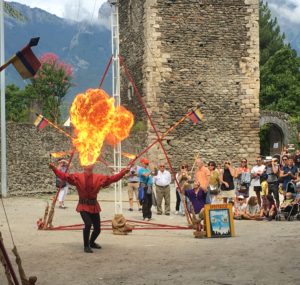 Financially we continue to live within our budget.  Please know that we could not be doing this without you.  Thank you very much!  Also, there is a chance in January that we will be losing two of our current supporters, one of them being a major supporter.
The projects
We continue to champion five projects:  the Mobility Carts and other 3rd world technologies, the HBB Skilled Birth Attendant, Project Liv-E (Books for Togo), Cervical cancer screening and Exercise equipment.  We have created "project pages" on our website under the support tab for 3 of the projects and are working on the other 2.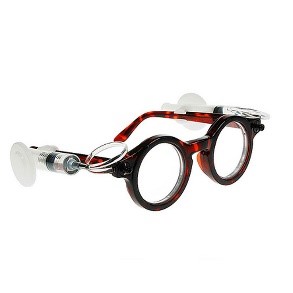 Project #1 –>MOBILITY CARTS and 3rd World Technologies  –> 21 carts have been received at the hospital & continue to be distributed.  We are hoping to follow up on their stories.  A proposal for an "assist" device in difficult terrain for the carts has been made.  We are currently searching for an "engineering" student to take as a project.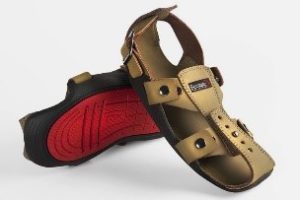 We have also identified other 3rd world technologies that we would like to investigate and possibly introduce to Togo: "self-refraction" eyeglasses (see http://cvdw.org/), "self-growing shoes" (see https://theshoethatgrows.org/) and Frio Insulin Cooling cases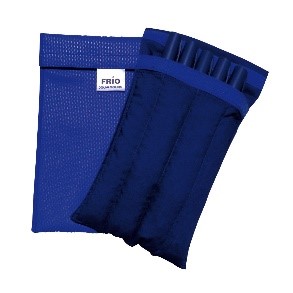 (see http://frioinsulincoolingcase.com/).
Project #2 –> HBB SKILLED BIRTH ATTENDANT –> a proposal for training midwives at HBB has been submitted and the reviews have been positive.  We are awaiting a final decision.
Project #3 –> PROJECT LIV-E (BOOKS IN FRENCH FOR THE CHRISTIAN SCHOOLS IN TOGO).  During our time in Togo we were asked if we could find some "school books" for the 14 Christian Schools in Togo.  We located a potential source of books, and God provided a Christian brother in France to work directly with the schools in Togo to gather and ship school books.  Our prayer is that this will be a fruitful relationship that will see many books sent to Togo.
Project #4 –> CERVICAL CANCER SCREENING –> all information has been received.  We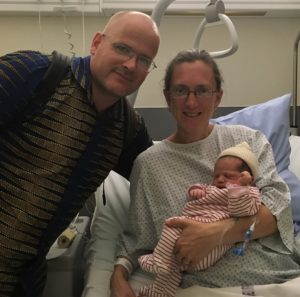 are presently in the midst of putting the proposal together.  We are hoping to finish by the end of the year.
Project #5 –> EXERCISE EQUIPMENT –> Research is in progress.  Questions remain with respect to where on the compound the equipment can be placed.  We will focus on this project after project #4 is done and once we are in Togo.
Praise Report
Healthy baby and delivery
Completion of our French studies
Our time in France and an uneventful return to the US
Prayer requests
For the development of Nathanael's speech
For Noah and parents as we start home schooling
The completion of our packing and task list while in the US
Safe travels to Togo on October 3rd
Peace in Togo during this time of protests
Our ministry in Togo
Direction and clarity in our lives
How to Contact Us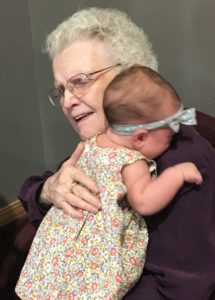 Webpage : www.fredandlydia.com; and email: mail@fredandlydia.com
Mail:

Togo

–> C/o HBB, BP 24, Adéta Togo, West Africa (Please do not send any items of value);

USA

–> C/o Dave and Ann Childress, 5909 West State Road 250, Madison IN, 47250
Donations: http://www.abwe.org/give (Look at the left-hand column of the page); or ABWE Donor Service, PO Box 8585, Harrisburg, PA 17105-8585 (Phone 1-800-901-2293)
God Bless,
Fred, Lydia, Noah, Nathanael and Noémi Pfenniger