Our Family
Noah and Nathanael continue to amaze us as they still want to go to day care and school without much problems.  Noah was very excited after being able to ride a bike without any help and without training wheels after only two-tries and no falls!  I think riding his scooter every day to school has given him the balance needed.  Nathanael continues to babble and laugh.  The two boys are really starting to play together which is such a blessing to watch. (see video)
We are progressing with our language studies.  It is not easy, but it is coming (would appreciate continued prayers!).  We have some good classmates and teachers that are truly interested in our learning.  At the end of November (Nov 28-Dec 2), we have a whole week of testing to evaluate our learning and to see if we know enough to advance to the next level.  In December, we will be each presenting a devotion in French in front of the school for 15 minutes (would appreciate your prayers -hopefully no tomatoes thrown 😉 ).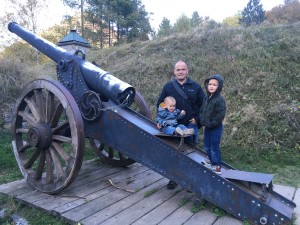 The schedule here has been good for us (though balance is still a continual struggle) as we are not only spending time together as family, but are also getting some recreational time, such as handball for Noah, hiking for Fred, and running for Lydia.
Recently we made two day trips. The first was to Lyon, where we saw an amazing old church and an old Roman amphitheater. Next in Beaufort we visited a cheese factory (no free samples L), a beautiful dam, and a lot of Alp farmers and huts.  It reminded Fred of Switzerland. (See our picture page!)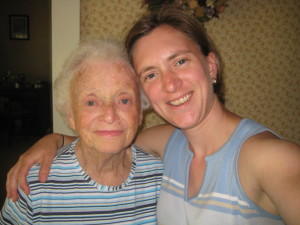 On a sad note, Lydia's 95-year-old grandma passed away on the 23rd of October.  It was not unexpected, but it is hard to loose someone you love.  We are very grateful for the 8 months we were in Madison and for the time Lydia and the boys got to spend with her.  Thank you God.
Project #1 – 20 PET CARTS TO TOGO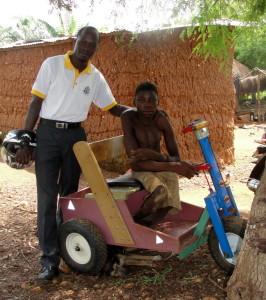 Status:  Almost complete!  5 PET Carts are in Togo and 16 more are being shipped.  A list of potential recipients is being complied by Pastor J.
Overview:  The PET Carts are personalized energized transportation carts provided to persons in need (http://mobilityworldwide.org/).  The carts are made in the US and donated freely.  During our first 2 years in Togo we shipped and delivered 5 carts to people in need.  You can read their stories by clicking here (stories are at the end of the Newsletter).
Update:  In August with the help of Dr. G and Dr. E, 5 carts were shipped to Togo.  They have arrived and 1 has already been delivered to a patient in need.  (We hope to do a follow up story on him when we arrive in Togo.)  Presently, through a container being managed by Family A, 12 additional adult carts and 4 kid carts are being packed and will be shipped by the end of November.
Cost:  As the carts, themselves, are free, the costs associated with this project are related to shipping and customs.  To date our costs are as such:
Starting Project Account Balance
$2,201
(Number of contributors: 1)
ABWE administration fee
-198.09
Carts
Container
Costs
5 Adult CARTS
Dr. G / Dr. E
Shipping within USA
0
Shipping / custom to TOGO
-289.91
12 Adult Carts and 4 Kid Carts
Family A
Shipping within USA
-348.67
Shipping / custom to TOGO
??
Ending Project Account Balance
$1,364.33
*Our cost is lower than originally anticipated.  Any unused funds will be rolled over to the next project
Future Project Modification:  The Togo landscape is one of rolling hills and poor roads.  The PET Carts are well suited for this environment as they are durable.  However, in certain areas, the PET Cart drivers end up requiring assistance either from strangers and/or family.  It would be really helpful if there was some kind of "automated assist device" on the carts that would assist the drivers and thus give them greater freedom.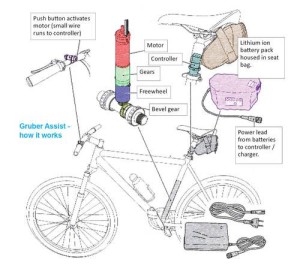 One possible solution is to "mechanically dope" the PET Carts.  Mechanically doping devices exist for bicycles and aid the riders in allowing them to cover greater distance with less effort (http://vivax-assist.com/en/produkte/vivax-assist-4-0/vivax-assist_4-0.php)
We would love to investigate if these devices or something like it would be appropriate for the PET Carts.  As such, if you and/or anyone you know is interested in helping and/or heading up this project please let us know.  The task would include investigating what kind of assist device could be adapted to the PET CARTS at a practical cost.
Project #2 – Skilled Birthing Attendant (SBA) Training Program (Midwives)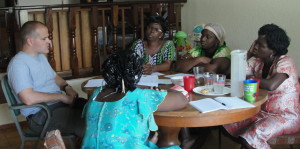 Status:  A proposal for a SBA training program has been submitted.  We are waiting HBB's decision and direction.  Thus (contingent on HBB's approval) we are looking for 112 people who would feel lead to give a one-time gift of $100 (or in whatever amount you feel lead) (for total costs see below).  If you are interested, please contact us (email: mail@fredandlydia.com).
Overview:  HBB suffers from a shortage of qualified OB providers.  The idea behind the project is to put together a training program for in-house skilled birthing attendants.  The program would train in house staff to handle the majority of the cases that come to the hospital.  This would not only deepen the skill set at HBB, but allow HBB to maintain a minimum of OB care that is independent of doctors.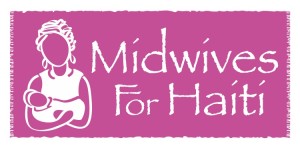 Update:  In the summer we were introduced to Nancy Brunk, a nurse midwife and CEO of Midwives for Haiti.  She has developed a program in Haiti that includes a French and English curriculum. It trains national nurses to become midwives.  She has offered it to us for free.
The program is described as "a rigorous 12-month training program for Haitian nurses to become Skilled Birth Attendants." The teachers are supported by visiting volunteers (midwives and other medical professionals). The students are in the classroom, clinic and hospital. Upon completion, these graduates receive a certificate from the Haitian Ministry of Health and go on to work throughout Haiti. Since 2006, they've trained 95 SBA's and these graduates make up nearly 1/3 of the total skilled providers working in Haiti.  In 2014, they provided skilled care at over 10,000 births.
Key Points of a modified Midwife for Haiti training program for HBB include the following:
15 month program

– 12 months of Midwives for Haiti curriculum and 3 months of HBB specific OB protocol training

2 days a week of lectures

(will include bible studies)

4 students

maximum per class
Based on the book "

A book for Midwives: Care for Pregnancy, Birth and Women's Health

"
Program is built on the

32 core abilities of a midwife

as identified by the WHO and the International Organization of Midwives
Costs:  Estimated cost of the program, if approved, are as follows:
Starting Project Account Balance
$ 0
(Number of contributors: 0)
ABWE Administration Fee
0
Startup costs (one-time costs to start the program)
Computer with projector
-3,000
Support material for teaching
-3,000
Recurring costs (Costs associated with each class of students)
Nurses Salaries while they attend lectures
-5,000
Books
-180
Ending Project Account Balance

$ -11,180
Projects #3 – Exercise Equipment and Project #4 – Cervical cancer screening updates will be coming in the near future
Thank you so much for all your love, care and support.
God Bless,
Fred, Lydia, Noah and Nathanael
P.S. Please see our updated picture, prayer and financial pages.